Campaign to change Brown Willy's name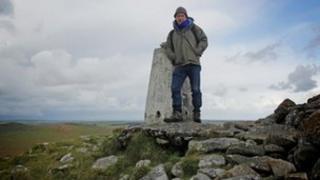 A campaign has been launched to have the name of a landmark on Bodmin Moor in Cornwall officially changed to its original Cornish title.
Bronn Wennili, the Cornish name of highest peak on the moor, has become distorted over many years to its current title, Brown Willy.
The original title of the peak, which stands at 420m (1378 ft), means "hill of swallows".
Critics said they believed no name change was necessary.
'Giggle factor'
Chris Hines, one of the founders of Surfers against Sewage, is leading the campaign to get the peak officially re-named Bronn Wennili.
Mr Hines said: "It is that kind of giggle factor. It doesn't mean anything. At some point or another, I can't ascertain when, it became Brown Willy.
"I am hoping the council will turn the name back to Bronn Wennili which means hill of swallows."
But people commenting on BBC Radio Cornwall's Facebook page said they did not want the name changed.
Michael Rabbitte said: "It's been Brown Willy for as far back as living memory goes and I suspect, as others have pointed out, that it will always be called that, whatever name we may formally give it.
"We also have Flushing and Looe - are they next?"
Although it is not known when the modern version of the name became its official title, Annabel Darrall-Rew said she had known the place as Brown Willy for more than 60 years.
She said: "I live very close to Brown Willy and have known the name since 1951.
"I would be happy for it to have two names as is done in Wales with the name Bronn Wennili and Brown Willy on the signs."
Mr Hines said he had contacted Ordnance Survey to ascertain when the the name of Brown Willy was first used on maps.
He added: "Restoring the original name Bronn Wennili to the highest point in Cornwall is a complete no-brainer.
"It has a lovely meaning - Hill of Swallows - a name that the county and its people can be proud of and something that will be slightly more attractive to residents and tourists than Brown Willy."