Skin grown in Cornwall malignant melanoma cancer study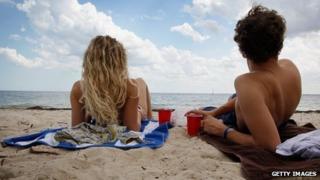 Scientists in Cornwall are attempting to grow human skin in a bid to improve survival rates in skin cancer.
The skin is being made at the European Centre for the Environment and Human Health in Truro.
In the project scientists are studying skin cells which are in contact with each other rather than single cells.
Researchers have said this is more realistic and could help to identify people at risk.
Cancer Research said the number of cases of malignant melanoma skin cancers in Cornwall is higher than the UK average.
'Create treatments'
Dr James Allen, from the centre, said traditionally single cells in a plastic dish have been studied, which was useful but unrealistic compared to how cells grow and live.
He said in his study the cells will be in contact with others, which is more realistic.
"We hope to use the model to try and better understand how melanoma can spread throughout the body, which is why it's so dangerous. It spreads quite quickly and readily.
"We can then hopefully start to create treatments or certainly diagnostic procedures which can identify people at risk more quickly and improve survival rates."
Figures from the South West Public Health Observatory showed Cornwall had 31 cases of malignant melanoma per 100,000 people between 2006 and 2008, while the average in England for the same period was 15.6 cases.
The European Centre for Environment and Human Health is part of the University of Exeter Medical School.