Isles of Scilly looks for Five Islands School head teacher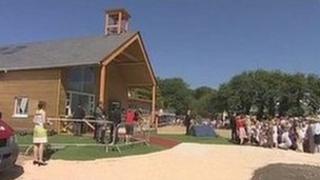 Governors at a school on the Isles of Scilly which suspended its last principal are preparing to advertise for a new head teacher.
Former Five Islands School head Bryce Wilby was suspended then left this year in the wake of allegations of financial irregularities, which he has denied.
Governor chairman Ben Julian said, despite recent events, they believed it was still an attractive post.
He added applicants needed to consider it was an "intense" place to work in.
'Goldfish bowl'
He said: "It looks very attractive from the outside.
"It's an idyllic place, and the sense of community is amazing - but it's also very intense.
"You're in a goldfish bowl; and in a key role like head teacher, that's more so.
"You're living right in amongst the people you work with, the children, the families."
Mr Wilby was suspended in May after the allegations were raised by whistle-blowers.
A report into his suspension and the alleged irregularities, by auditors from neighbouring Cornwall Council, has not yet been made public.
Mr Wilby has insisted he has done nothing wrong and said he can prove the allegations are unfounded.