Tony Hogg 'honoured' to be Devon and Cornwall's PCC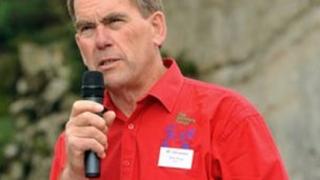 The new police and crime commissioner (PCC) for Devon and Cornwall said he is "honoured" to be taking on the role.
Tony Hogg, Conservative, said he believed his military background helped him gain the winning votes.
Mr Hogg received 64,419 votes while Independent candidate Brian Greenslade came second, with 37,243 votes.
Mr Hogg said he was keen to start working with police at all levels "to tackle many challenges our police face at this time".
'Lifetime in leadership'
The turnout at the polling stations in Devon and Cornwall was 14.7%.
Mr Hogg said: "I think people were attracted to the military background. I think it sat well with the idea of a commissioner working with our police force.
"I have had a lifetime in leadership."
Mr Hogg was previously the commanding officer of Royal Naval Air Station Culdrose in Helston, managing 3,000 personnel and a budget of £81m.
He said: "Most importantly I want to meet the police of Devon and Cornwall, and to make sure I meet the constables on the street as well."
Chief Constable Shaun Sawyer, from Devon and Cornwall Police, said: "I would like to congratulate Tony Hogg on being the first police and crime commissioner for Devon, Cornwall and the Isles of Scilly.
"I believe that we both share the same long-term aspirations of reducing crime, enhancing the safety and well-being of the public and their quality of life. I will fully support Tony in his role."