Camborne foodbank plans busiest Christmas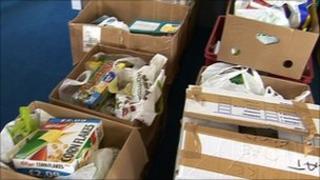 A Cornish Foodbank will be providing 200 Christmas meals for local families in need this year.
In previous years the CPR foodbank in Camborne has provided about 70 meals to people in the town, as well Pool and Redruth.
The foodbank volunteers are asking for support from churches and members of public to help them produce the lunches for Christmas Day.
Organisers said 200 meals was the maximum they will be able to provide.
Don Gardener, from the foodbank, said: "We have got to put a ceiling on 200 because we just physically haven't got the manpower to do it."
Mr Gardener said he believed they were only able to provide for half the families who are in need in the Camborne, Pool and Redruth area.
He said: "I really believe next year we are going to see a bad year in this area."