Dog survives 160ft mine plunge in Cornwall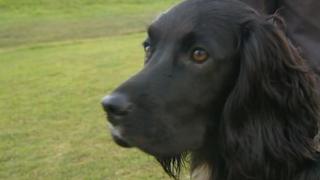 A pet dog had a "miracle" escape after falling 160ft down a disused mine shaft and being lost for 24 hours.
Owner Brian Saunders had played a round of golf at Radnor in Cornwall when his dog Iso bolted into some bushes.
Mr Saunders and friends scoured the area but Iso remained undiscovered until the next day when his barking was heard from the mine.
Iso escaped with a minor cut to his head and a "dented muzzle", but was in "good spirits" said rescuers.
Firefighters were alerted after Sprocker spaniel Iso was heard the next day by a man living nearby.
They said Iso could have been knocked unconscious by the fall, which was why he was not found earlier.
A firefighter abseiled down the shaft to a ledge where Iso lay.
'Intelligent dog'
Commander Dave Carlisle, of Cornwall Fire and Rescue Service, said: "It made our day when we found him."
He said the shaft had thick undergrowth around it.
"For someone to fall down it would require a great effort," he said.
"Iso is a lively dog and may have seen something which he went after.
"West Cornwall is littered with mine shafts and after heavy rain adits open up so it is an ongoing problem."
Retired pharmacist Mr Saunders, from Falmouth, said: "It was a miracle when he came out.
"I'm very proud of him."
Mr Saunders took ownership of his pet after Iso failed to become a police sniffer dog. He said a police handler had found Iso's first interest was hunting, not retrieving.
"He's the most intelligent dog I've ever owned, but he's only two years old.
"It was his enthusiasm that got the better of him, but he will be on a lead in the future."