Ex-ShelterBox boss Tom Henderson denies allegations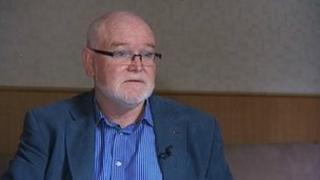 The founder of Cornish charity ShelterBox, Tom Henderson, has denied allegations of gross misconduct.
He was removed by the charity as chief executive in July.
ShelterBox said last week Mr Henderson had tried to place a £650,000 order with Found International, a firm which it said had connections with his son.
Speaking for the first time since then, Mr Henderson said he believed his dismissal was unfair and was a result of a "clash of personalities".
In a "serious incident" report to the Charity Commission, ShelterBox claimed Mr Henderson tried to place an order for tents and survival tools with Found International.
Mr Henderson said: "I had no knowledge of that at the time, at all.
"It's important to note that my son has been involved with ShelterBox and has been supplying equipment for many years."
Mr Henderson, who founded the charity in 2000, said "everyone knew this, it was transparent".
'Nothing to hide'
Ian Munday, chair of trustees at ShelterBox, said: "Tom was unable to provide us any satisfactory answer to our questions as exactly what the relationships were between the companies he was placing orders with and his son John's business.
"We were very concerned that as we are spending donors' money, we have to make sure we spend it correctly and properly and there's no serious conflict of interest."
Mr Henderson said he had "subsequently learnt" - later on in the investigation - that his son's role with Found had "on occasions" involved some industrial design consultancy by ShelterBox for a nominal amount.
Mr Henderson said if an order for that amount had been placed with Found International his son "would not have benefited".
In a statement, John Henderson said: "We truthfully have nothing to hide.
"We strongly deny the claims made by the charity and we believe they have no evidence for them."
An Employment Tribunal hearing is due to be held in Exeter in 2013.
ShelterBox said: "The issue of legal action is a matter for Mr Henderson. We will defend any claim robustly."