Anger over Connon Bridge landfill extension plan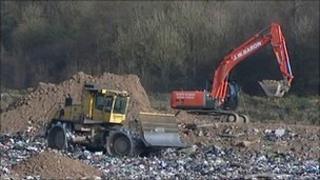 People living near a waste dump in south-east Cornwall have said they are "angry" its working life could be extended for another 22 years.
Connon Bridge landfill site, near Liskeard, is operated by SITA UK on behalf of Cornwall Council and is due to expire in 2014.
SITA UK are seeking permission to extend its working life past the current cut off date.
Nearby resident Janet Haley said it was "totally unacceptable".
Ms Haley said: "It started off in the 60s just very small, to take the rubbish in the Caradon area, but this is now taking the whole of Cornwall's waste.
"It is totally unacceptable, we have the noise, the smells, the dirt, the dust and the rubbish from the lorries."
'Considerably less'
Ms Haley said the area had been "blighted" for 44 years and they had "had enough".
Cornwall produces about 300,000 tonnes of waste a year and, according to the county council, the region will run out of landfill space by 2014.
A controversial waste incinerator - Cornwall Energy Recovery Centre (CERC) - is to be built by Sita UK near St Austell and is due to be up and running in 2016.
Gareth Philips, planning manager for SITA UK, said: "We need to look at the extension of Connon Bridge primarily to cover the period until CERC is up and running.
"What we are proposing is that the landfill will continue to operate as it does today until 2016 when the energy recovery centre comes online.
"Thereafter, the landfill would take the material that is either over or above the capacity of the energy recovery centre."
He said the "tonnage" Connon Bridge currently dealt with would be "considerably less" than it was now and the materials delivered to the site would consist of only those that cannot be recycled at the waste-to-energy plant at St Dennis.