Isles of Scilly flight disruption sparks concerns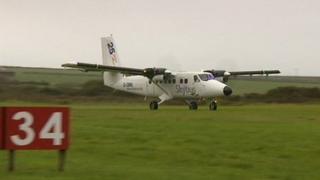 Transport bosses have said they are doing all they can to minimise the impact the weather is having on air links to the Isles of Scilly.
Land's End Airport has been temporarily closed until 6 December because of a waterlogged grass runway, so Skybus flights will be running from Newquay.
Newsagents, flower growers and a hotel owner are among those affected.
Since helicopter flights ended in October, the Isles of Scilly Travel company is the sole air provider.
It operates flights six days a week in good weather. Its ferry, the Scillonian, only runs in the summer and a freight ferry operates every other day.
Mumford's Newsagent, on St Mary's, said without guaranteed daily papers it was losing money and flower grower Ben Julian said with with no flights to Land's End until Thursday, he cannot send his customers' orders out by first class post.
Meanwhile, the manager of the Bell Rock hotel said a number of bookings have been cancelled and that was of concern as business "just ticked over" outside the tourism season.
"Every booking counts, so although I think Skybus has been doing a pretty good job since the helicopters stopped, it's quite worrying," he told BBC News.
Andrew May, the chairman of the travel company, said the decision to close the airport was taken because because further heavy rain has been predicted.
He said the company had been doing its best since "stepping up to the plate" when British International Helicopters stopped flying.
"The weather's a challenge for lots of people and we're managing as best we can - we can manage the circumstances but we can't manage the weather," he told BBC News.
The steamship company's current contract with the Royal Mail covers flights to Land's End, but not Newquay, but Mr May said discussions were taking place to see if that could be changed.
Dudley Mumford, chair of the Council of the Isles of Scilly transport committee, described the recent weather as "unprecedented" and said there was no quick fix.
"Although we can plan for so many contingencies, the bad weather coupled with the demise of the helicopter has put a strain on the services," he said.