Call for year-round Isles of Scilly ferry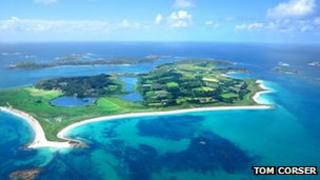 Isles of Scilly residents have renewed their calls for a subsidised year-round ferry to operate to the mainland.
Land's End airport is currently waterlogged and will not reopen before Thursday.
Skybus is temporarily transferring all flights to Newquay Airport until Thursday morning.
The Friends of Isles of Scilly Transport group said the flight cancellations proved how much "weaker" links with the mainland had become.
In October money to subsidise an Isles of Scilly helicopter link was ruled out by Transport Minister Norman Baker.
'Quite worried'
The Scillonian ferry runs for only seven months a year and the only other link, Skybus, which flies from Land's End airport, is weather-dependent. Neither service is subsidised.
Marian Bennett, one of the co-founders of the Friends Of Isles of Scilly Transport, said: "It's rapidly becoming much weaker. I think that it's wrong of the government to wait for an absolute crisis, which we're heading for.
"We're only 2,000 people so our electoral clout is very little."
Mr Baker said the economy on Scilly was too strong at the moment to justify a transport subsidy, similar to the one provided to the Orkneys in Scotland.
Alec Harding, a Scillonian who now lives in the Orkneys, said: "If I was still living on Scilly, I have got to be honest, I would be quite worried.
"It's easily 60 or 70% dearer than I would pay on the Orkney Islands for building materials, food, anything. An all-year-round ferry is definitely the answer."
British International Helicopters (BIH) stopped its year-round service linking the Isles of Scilly and the mainland on 31 October after running into financial problems.