Looe businesses fear road closure losses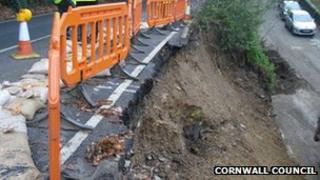 Businesses in a Cornwall town say road closures following recent floods are affecting trade.
Two of the three main routes into Looe are not likely to fully re-open until April next year, according to the Cornwall Flood Recovery Group.
One road is completely closed after a landslide and another is being controlled with traffic lights - with just one lane open.
One trader described the main street in Looe as being "absolutely dead."
The A387 at Sandplace Road has been closed since 30 November.
The B3253 at St Martin's Hill has been reduced to one lane after another landslip.
Andrea Cartwright, who manages the Schooner gift shop in the town, said: "The street is absolutely dead.
"Normally it goes quiet in November then we pick up trade in December. But there's just nobody around. It's horrendous."
Rob Andrew, from Cornwall Council's Flood Recovery Group, said: "I would hope to think that the A387 and the B3253 are fully opened by Easter. But I couldn't guarantee that at this stage
"We're now working with local businesses to let people know they are open for business."