St Austell's eco town project 'on hold'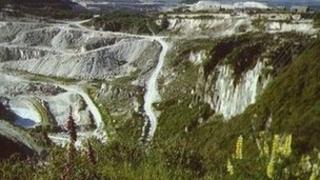 Plans to build 5,000 houses in mid Cornwall have been put on hold, the company behind the scheme said.
The £1bn ECO Bos project would have seen homes, leisure facilities and green space built on former industrial sites in the St Austell area.
Managers blamed the depressed economic situation for the decision.
In a statement the company said it had to "scale back our operations with the project" but hoped it would only be for the short term.
'Disappointing news'
The scheme would have seen five former china clay processing sites being transformed into the new communities near Penwithick, Bugle, Par, Trewoon and Nanpean.
In its statement ECO Bos said: "We are faced with two significant challenges in progressing at our intended pace. These are a continuing depressed economic situation adversely affecting the property sector and a planning framework still in a state of evolution.
"Whilst there is ultimately a strong belief in a positive outcome to the long term regeneration of mid Cornwall, we feel that the prevailing conditions means that we will not progress significantly in the short term."
The statement said there was now a need to "re-structure the company and, for the foreseeable future, scale back our operations associated with the project."
Cornwall Councillor Steve Double said: "This is disappointing news for the St Austell area, but not entirely surprising in the current economic climate.
"The project had huge potential to create lots of jobs and much needed housing. Sadly that's now on hold."
Cornwall councillor for housing and planning, Mark Kaczmarek said if ECO Bos did not develop them over the next 20 years then the council would be "looking for someone else that will, because these are sites that will be developed".
Mr Kaczmarek said: "We need to make sure we work very closely over the next 20 years with any developer who will want to develop on mostly brownfield sites in and around St Austell."
When the project was given the go ahead the developers said the plan was to create one of the most sustainable integrated town developments in Europe, with 40% of the 5,000 homes affordable.