'Faulty' cooker at Saltash carbon monoxide poisoning house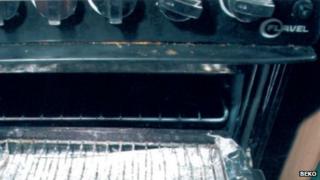 Two men whose bodies were found in a house in Cornwall died from carbon monoxide poisoning from a faulty cooker, an inquest has heard.
Richard Smith, 30, and Kevin Branton, 34, from Saltash, died at their property in Moorlands Lane, Saltash, in November 2010.
The inquest at Truro City Hall was told the Flavel cooker's grill produced high levels of carbon monoxide.
The jury returned verdicts of accidental death.
The Health and Safety Executive (HSE) said the problem with the cooker was a "known" manufacturing defect.
The defective Beko, Leisure and Flavel cookers were all made by Beko at a factory in Turkey.
Six more deaths
HSE engineer Steve Critchlow told the inquest cooker grills should not be operated with the door closed as this limits oxygen and can cause carbon monoxide to be produced.
Some ovens have a safety cut-out, others have an air gap around the door, but the Flavel model at the Saltash property had a door fitted with a complete seal which was a manufacturer's defect.
Mr Critchlow said a technical bulletin was issued to gas engineers more than 18 months before the tragedy instructing them to cut off the base of the grill seal with scissors.
The cooker in Mr Smith's and Mr Branton's home was bought by Mr Smith's father in December 2008 and fitted by a friend in January 2009.
Beko, which has details of the affected cooker models on its website, said it attempted to contact more 21,000 customers to warn them of the fault, but nearly 7,000 had not been contacted.
When questioned by Cornwall Coroner Dr Emma Carlyon, Mr Critchlow said it was possible there "could be people out there with cookers in a dangerous condition".
'Great tragedy'
Gary Webster from Cornwall trading standards told the inquest at least six other people have died as a result of the defect.
After the inquest, the families of the deceased said their lives had been ended by "something as simple as shutting the grill door" and urged people to check their cookers.
Beko described deaths as "a great tragedy" and offered its deepest condolences the family and friends of Mr Branton and Mr Smith.
In a statement, the company said when it became aware of the safety risk in November 2008, it "immediately launched a corrective action programme", which included sending letters to all customers on its database, door-knocking campaigns and advertising in the national and local press.
It said most of the faulty cookers had been traced.
"As a result of this extensive activity, a majority of affected models have been located and modified... however 6,998 affected units remain untraced in the UK," the statement said.
It has urged customers to check their cookers and contact the company if they are concerned.