Cyclists take part in Devon and Cornwall awareness ride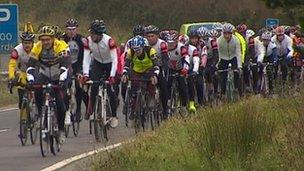 One hundred cyclists have taken part in a ride in Cornwall to raise awareness of dangers bicycle users face on roads in the county and neighbouring Devon.
The 10-mile (15km) ride took place between Truro and St Austell.
Ride organisers said cyclists and motorists had to work together to prevent accidents and deaths.
Two cyclists have been killed on roads in Devon and Cornwall since April, and 30 seriously injured during the same time, Devon and Cornwall Police said.
Some of those taking part admitted that some cyclists did things which infuriated car drivers and vice versa.
But organiser Dave Wring said cooperation and awareness was needed between cyclists and motorists because "we all share and use the highway".
He added: "I also think with this new growth of cycling, people need to be aware that they need to be more illuminated, and that they need to improve their practices. That's essential."
Related Internet Links
The BBC is not responsible for the content of external sites.