Cornwall firefighters selected for World Trauma competition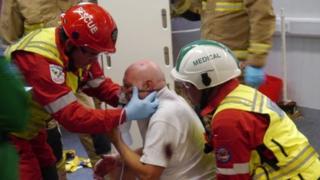 Two firemen from Cornwall have been selected to represent the UK at next year's World Trauma Challenge.
Stephen Miles, from St Mawes, and Chris Williams, from Mullion, will compete in Florida next October.
The pair were previously ranked 6th in the UK competition and 10th in the World Rescue Organisation Challenge.
In the competition teams are given nine minutes to assess and treat a casualty and one minute to give a handover to a medical team.
Both men are co-responders with Cornwall Fire and Rescue Service which means they are trained to deal with medical emergencies.
Mr Miles said: "The competition is a very intense experience.
"It's more than a competition though, the examiners provide comprehensive feedback on our strengths and weaknesses which we are then able to take back and put into practice as co-responders."