Isles of Scilly Council chief Philip Hygate 'to leave'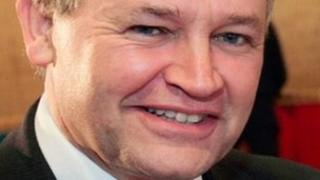 The suspended chief executive of the Council of the Isles of Scilly is to leave his job, the BBC understands.
Philip Hygate, who has been in the role for about 20 years, was suspended over allegations relating to "employment issues". He denied any wrongdoing.
An independent investigation was to be carried out by someone appointed by Communities Secretary Eric Pickles.
Mr Hygate - who it is understood will receive an £80,000 pay-off - and the council have yet to comment.
Severance negotiations
Mr Hygate is to leave the post in January.
The former council boss was suspended on full pay after a meeting of the council's Policy and Resources Committee on 30 October.
The council said his suspension did not "constitute disciplinary action" and the allegations warranted independent investigation.
Around that time, council chairman Mike Hicks said he could no longer work with Mr Hygate.
The council and Mr Hygate had asked for Local Government Minister Mr Pickles to appoint an independent investigator because neither side was able to agree on a candidate.
One needed to be appointed by 2 January.
However, after he was suspended, negotiations began over a possible severance package, BBC Cornwall understands.