Cornwall Council's Kevin Lavery takes New Zealand job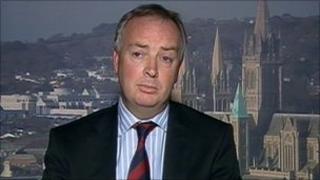 The chief executive of Cornwall Council is moving to New Zealand to take up a new post.
Kevin Lavery has been confirmed as the NZ$400,000 (£203,350)-a-year chief executive of Wellington City Council.
Wellington Mayor Celia Wade-Brown said he would bring "strong leadership and fresh thinking when the city and region faces big challenges".
She said Mr Lavery is "relishing the challenges of running a council in a cosmopolitan capital city".
'Sorry to leave'
Ms Wade-Brown added: "Kevin's career thus far shows he can work with people across the political spectrum and that his focus is on providing affordable and quality services in challenging local government environments."
Mr Lavery said in an email to councillors: "I have enjoyed my time... and will be sorry to leave the authority and Cornwall."
Mr Lavery has been in charge at Cornwall Council since 2008, before it became a unitary authority.
He has overseen budget cuts and staff losses and championed the idea of outsourcing key council services.
A row over a privatisation deal with BT led to political chaos and the ousting of council leader Alec Robertson in October.
Some councillors feel the subsequent watering down of this plan is partly behind his search for another job.
He will take up the new role in March.