Tintagel Head angler rescued from sea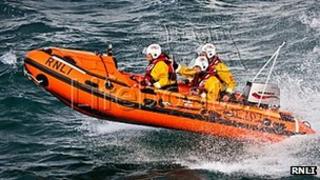 An angler has been washed off rocks into the sea in Cornwall.
Falmouth Coastguard said the man, who is thought to have been on holiday, was swept into the sea at Tintagel Head at about 16:00 GMT on Monday.
The alarm was raised by a member of the public and the Port Isaac inshore lifeboat rescued the man who had been in the sea for about an hour.
He was taken to Derriford Hospital in Plymouth, suffering from hypothermia. His condition is not known.
'Best news'
Conditions were too bad to airlift the injured man, so the inshore lifeboat landed at Boscastle and he was taken to Plymouth by land ambulance.
The RNLI said its boat, the Copeland Bell, suffered slight damage during the rescue.
Phil Tidy, RNLI operations manager at Port Isaac, said: "A lifeboat can be repaired, but the damage is minor compared to the threat that was facing the poor man who was in the water.
"The crew did extremely well to find and rescue the man and that's the best news for all of us."