Cornwall Council's Kevin Lavery feared job frustration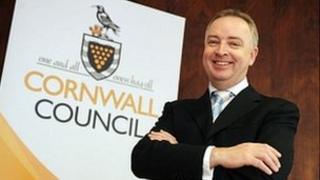 Outgoing Cornwall Council chief executive Kevin Lavery said he would have become frustrated if he had stayed in the role.
Mr Lavery, 52, is set to take up the job as chief executive of Wellington City Council in New Zealand in March.
Appointed in 2008, he was behind plans to outsource council services in a full partnership with British Telecom (BT).
But councillors rejected the plan in favour of a watered-down version, fearing loss of control of services.
Mr Lavery said: "I think the council is trying to sort out what its priorities are for the future and it's not sure.
"I don't think, in that environment, it's the right place for me. I think I would get frustrated and I don't think that's good for me or the organisation.
"I like to get my own way, like anybody."
'Jobs and savings'
Mr Lavery has presided over Cornwall Council's switch to unitary status - taking over the powers of now defunct district councils - jobs cuts and savings.
The row over the privatisation deal with BT led to the ousting of council leader Alec Robertson in October.
"I think a full-fledged partnership would be the best deal for the Cornish taxpayer. It would provide jobs and savings," he said.
"I think where we've got to is fine. It's a compromise, but it's a decent starting point.
"But I think we have to move on. I think most councillors and officers really have got to the point of 'Let's get on with it.'"