Treffry viaduct cleaned by abseiling engineers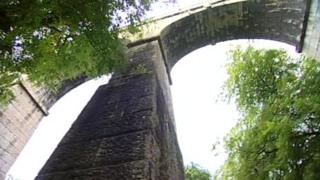 Vegetation which is threatening a 19th Century viaduct in Cornwall is to be cleared by a specialist team of abseiling engineers.
The Treffry Viaduct in the Luxulyan Valley was built over the River Par between between 1839 and 1842.
It provided a horse-drawn tramway link to carry copper, china clay and granite from nearby mines and quarries.
Cornwall Heritage Trust said vegetation growing between the blocks could damage the structure.
The 10-arch viaduct, built by Joseph Thomas Treffry, is 89ft (27m) high and 650ft (198m) long. Each arch has a span of 40ft (14m).
When the viaduct was built it was considered one of the most advanced engineering projects in Devon and Cornwall.