Cornwall flooding forum sending new 'be prepared' warning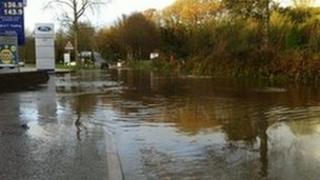 A flood awareness group is to contact every home in Cornwall believed to be at risk from flooding to advise them to "be prepared" in the future .
The Cornwall Community Flood Forum said it was to sending information card to about 10,000 households.
The forum said it believed too many people were turning a blind eye to the possibility of future flooding.
The card would contain useful phone numbers and safety advice, it added.
'Pricing risk'
About 170 properties were flooded in the lead-up to Christmas, including homes and businesses in Helston, Millbrook, Ladock and Mevagissey.
In Helston, about 190 people were advised to leave their homes.
The forum said it was issuing the cards because it believed hundreds of people did not accept they could have a problem in future and were not ready.
As well as having important phone numbers on it, such as those for Cornwall Council and emergency services, it includes safety advice.
The advice reminds people not to turn on electricity in floods, and not to rely solely on sandbags to prevent or stop water from getting into a property.
Martin Eddy, from the forum, said: "Households just need to hold these thoughts in their minds: 'How do I live flood zone? What can I do to help myself? And what can I do to help others?'"
Dr Stephan Harrison, from the University of Exeter's geography department, said he believed people had to act now or pay the price in future.
He said: "Clearly the insurance companies are interested in pricing risk properly, and if they think that you are going to get flooded then you will have a problem getting cover.
"I think this is the way the world is going, so people are going have to be prepared and recognise they they are going to have to be proactive in dealing with flood risk for themselves."