Bishop of Truro opposes same-sex marriage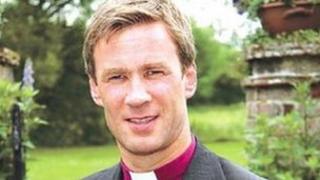 The Bishop of Truro has said he is personally against the idea of same-sex marriage.
The Right Reverend Tim Thornton was speaking after co-chairing a debate in Cornwall about government proposals to allow gay couples to marry.
He said he believed "different language" might now be needed to express such a level of commitment between any couple.
The government plans to introduce same-sex marriages before the next election.
'Desires and needs'
More than 70 people attended the debate in Truro on Friday.
It was organised and co-chaired by Truro and Falmouth Conservative MP Sarah Newton, who wanted to find out what constituents' thoughts were ahead of a free parliamentary vote on the issue.
Bishop Thornton said he was "very moved by people's personal comments on what is a passionately held and complicated matter", and that people "have to try and find a way forward".
He said: "I am personally against the idea of same-sex marriage.
"The issue is about trying to understand what this union of two people is about.
"I personally would like to go on trying to understand whether there is a different language we can use that might help in this matter.
"The problem is that it doesn't meet [some people's] desires and needs.
"I believe in listening to what people have to say, and then trying to discern what's the right thing to do."
'Profoundly important institution'
Luke Trill, from the gay rights group, Stonewall, who was also taking part in the debate, said allowing marriage would strengthen the institution.
He said: "The reason that we support equal marriage is that we believe it is a profoundly important institution, it is the strongest expression of love and commitment that two people can have.
"Marriage can only be made stronger by extending it to gay people and allowing them to take part in it. We don't see it devaluing it."
The government announced plans in December to introduce same-sex marriages before the next election, in 2015.
It is proposed that the Church of England will be banned in law from offering such ceremonies, while no other religious organisation will be compelled to carry out same-sex marriages.
The Church of England said it was committed to the "traditional understanding of the institution of marriage as being between one man and one woman", but added it supported civil partnerships for same-sex couples.