Royal Cornwall Hospital could shed 700 jobs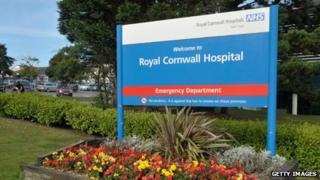 More than 700 jobs at the Royal Cornwall Hospitals Trust (RCHT) could be cut over the next five years.
The trust said a "need for greater efficiency" was behind the plans which would help save £50m from its £309m budget over the next five years.
The "Our People" report to the board on Thursday has been condemned by health campaigners.
But the report says that "simply doing more of what we have always done is no longer an option".
The report suggests a number of cost-saving measures, including a cut of 772 in the trust's workforce to 3,907.
'Devastating news'
Graham Webster of campaign group Health Initiative Cornwall said: "This must be devastating news for staff.
"These are really good staff that work extremely hard under a lot of pressure so I am really disappointed for them."
An RCHT spokesman said the savings were a response to government health reforms, including GP-led commissioning - the buying and planning of services on a local level.
He continued: "We need to plan for new treatments, new technology and care delivered in different settings - with a greater emphasis on integration and partnership with other organisations."
The report says the trust wants to give non-medical staff extra training to become "assistant practitioners", carrying out roles traditionally done by medical staff.
According to the NHS website, examples of assistant practitioner level roles include occupational therapy assistant, diabetes team assistant and primary care worker in mental health.
RCHT medical director Paul Upton said: "We are not talking about service cuts, we are looking at 700 people-less working for the RCHT potentially in the future.
"But there's well established ways of moving people to different organisations as services change.
"We are talking about jobs being delivered in a different way."