Hospital pulls out of joint support venture with Cornwall Council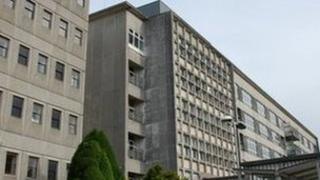 The Royal Cornwall Hospital Trust (RCHT) has announced it is to pull out of the proposed joint venture with Cornwall Council.
The plan would have seen the council and trust working with a private company to centralise certain services, including IT support and payments.
The trust said its decision was made following changes to the project and after taking legal advice.
Cornwall Council said it was "disappointed by the decision".
The trust announced in December it would be considering pulling out of the proposed deal to contract their IT work out to a private company.
Earlier in December a full council rejected an option of a full deal with BT to privatise a number of key council services.
But they gave the green light to a slimmed-down version, with so-called "customer-facing" areas - such as libraries and one stop shops - staying within the council system
In October the leader of Cornwall Council, Alec Robertson, was removed after a vote of no confidence.
The vote was held over the decision to push ahead with plans to part-privatise key council services. The full council had voted against the proposals.
The RCHT said it would "now pursue alternative options for developing our IT and health records services to meet future staff and patient needs."
The council said: "We are disappointed by the decision by the RCHT board to withdraw from the Strategic Partnership.
"We will now need to consider the implications of this decision with our other health partners before deciding what course of action is to be taken."