Row over Cornwall seabed tin sifting plan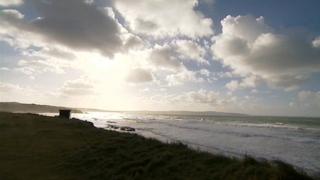 Environmental campaigners have clashed with a minerals firm over plans to extract tin from the Cornish coastline.
Cornwall firm Marine Minerals Ltd (MML) wants to sift tin from the seabed on the north coast for use in electronic equipment such as mobile phones.
Campaigners Surfers Against Sewage (SAS) say the work, to begin by 2015, would hit tourism, surfing and fishing.
MML said any work carried out, 200m out to sea from the low tide, would not affect beach and water users.
The tin is the residue of hundreds of years of mining on the land in Cornwall, said Allen Buckley, mining historian and former miner.
Deposits of fine tin too small to mine were allowed to drain into rivers and into the sea.
He said: "Vast amounts of ore were being brought to the surface.
"Dolcoath mine was thought to lose quite a large percentage of its tin down through the Red River."
'Valuable natural environment'
SAS campaign director Andy Cummins said: "Our beaches would be robbed of sand which is vital for surfing.
"Secondly, when you disrupt the sediment pollutants can enter the environment again, a danger to water users and the environment.
"And animals that feed and live on the seabed could be impacted dramatically."
MML confirmed that it would be asking the Marine Management Organisation for a permit to extract tin.
It said there would be 100 jobs directly connected to the extraction and many more at suppliers and contractors and it insisted it is not dredging.
Spokesman Chris Davies said the sand would be sifted for tin and replaced.
He said: "Any tin recovery work will be undertaken by one vessel, in one location, at any one time - this is unlikely to cause anything more than temporary minor inconvenience to surfers short-term, and long-term make no difference - other than injecting millions of pounds into the Cornish economy.
"The company has made clear that they will only pursue the idea if the valuable tin can be recovered in an environmentally and socially acceptable way, and is seeking a licence to undertake a detailed environmental study to assess all these matters, including the ones SAS raise."