Community kitchen gains PM's Big Society Award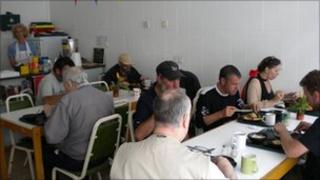 A charity which has fed vulnerable and homeless people for 20 years has become the first Cornish winner of the Prime Minister's Big Society Award.
St Austell Community Kitchen has more than 30 volunteers who deal with donations of food worth £500 a month.
With funding from Cornwall Rural Community Council the group has bought six laptops and now runs computer courses for its clients and volunteers.
The group also won the Queen's Award for Voluntary Service last year.
'Fantastic organisation'
During its time, the kitchen has provided almost 100,000 hot meals and served more than 300,000 cups of tea and coffee.
Prime Minister David Cameron said: "St Austell Community Kitchen is a fantastic organisation which is making a daily difference to some of the people in the local community who are most in need.
"What is so impressive in their work is the way they reach out to the whole community to make them a part of their work, giving everyone the chance to donate or get involved and regularly holding open days to bring them together with those they are helping."
The community kitchen is supported by local businesses, including a cafe in the town which donates its unused fresh bread and cakes, and a local dairy that provides 80 litres of fresh milk every week.
David Matthews, of St Austell Community Kitchen, said: "We are so delighted to be recognised by the prime minister and his award.
"Two years ago we were threatened with closure due to lack of funding. Receiving awards has made a real and positive contribution to the lives of those we support."
The Prime Minister's Big Society Awards are presented to groups of individuals that make a valuable contribution to their community and inspire others to contribute to their local area.