Man finds long-lost sister at local Penzance football club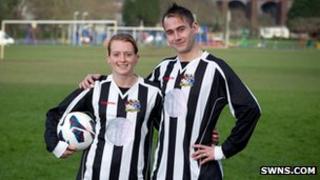 A man who spent 11 years searching for his birth family has discovered he has a sister who plays football for the same west Cornwall club.
Barrie Prowse, 27, is a midfielder for Penzance football club while his sister Gemma Sanders, 23, represents the women's XI.
Mr Prowse, who was adopted as a baby, said finding his sister so near was "quite a shock".
Mr Prowse has trained on the same pitch as Miss Sanders for several months.
"I have been searching on and off since I was 16 years old," he said.
"It was around a month ago when I really put it into action, going down every avenue possible."
'Really excited'
Mr Prowse was able to contact his birth mother through Genes Reunited, who told him he had a sister called Gemma Sanders.
He said: "I typed her name into the internet and Penzance Football Club kept coming up, I couldn't believe it.
"It was my sister who had been playing at the same club as me. I had no idea whatsoever, it was quite a shock."
Initially Mr Prowse sent Miss Sanders a message on Facebook.
He said: "I approached it saying that I thought we might be related. She was really excited because it makes her an auntie, as I have two daughters."
Miss Sanders, who lives in Redruth, is a member of the Great Britain deaf women's football team.
Mr Prowse said: "I was a bit gutted though as it makes me not the most successful person in my family at sport, but I am pleased for Gemma.
"We're getting one of our daughters christened and we've asked Gemma to be a godmother."