Arctic veteran from Cornwall to receive medal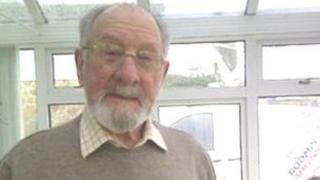 A navy veteran from Cornwall who served on Arctic convoys during World War II has welcomed the award of a new medal.
The Ministry of Defence has agreed on a design for an Arctic Star medal to recognise the bravery and service of those who took part.
Geoff Helmore, 90, from Praa Sands, said only "a few hundred" survive to receive the award.
More than 3,000 men died in a mission Winston Churchill described as "the worst journey in the world".
Mr Helmore, who was a midshipman on HMS Kent, said: "We were shadowed the whole time by the German air force and we were in the company of U-boats.
"The weather was so appalling, very little enemy action was possible.
"It was sufficient if you survived in those conditions with the temperature around 30 degrees below zero."
Mr Helmore said the crews regularly experienced heaving seas and very strong winds as well as virtually permanent darkness.
He said: "You are conscious of the fact that action may be imminent.
"On my two trips it took about three and a half weeks to get there and back.
"You had a gale of wind blowing ceaselessly. There was nothing calm in the winter.
"The sea was almost bottle-glass black.
"It had an ugly tracing of dirty brown foam. It was a very menacing element.
"If you went into the sea you had to be picked up in three minutes or you wouldn't stand a chance."
'A breakthrough'
The Arctic convoy crews worked to keep supplies flowing through German blockades to Britain's ally, the Soviet Union, in Operation Dervish.
Mr Helmore said: " We lost two of our gun crew one night, working up on deck.
"They should have been called every half hour by their mates who were busy. When they were eventually called it was too late they had died of hypothermia."
Mr Helmore has campaigned for many years for those who took part in the convoys to be recognised.
He said: "I shall look upon it as quite remarkable.
"Considering the number of governments who have refused to allow us to have it, it's really quite a breakthrough."
Russia had previously wanted to present its own Ushakov Medal to Britons who served on the convoys, but the move was blocked by the UK Foreign Office.
The UK Government said its rules on foreign awards meant permission could not be granted if veterans had received or were expected to receive a UK medal for the same services.
The MoD has also announced a Bomber Command clasp, for bravery and service during the war.
The honours will be sent out to veterans, or families that apply, as soon as next month.
Mr Helmore said: "What happened to us was simple. We were the crew of a cruiser. It was ordered to do a job, so we did.
"We're not heroes. We were well trained. But we're not heroes."