Megaphone parking alerts man recruits new whistlers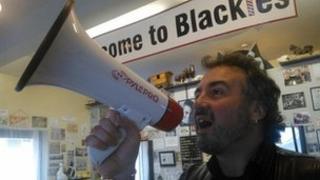 A barber silenced by Cornwall Council for using a loud hailer to warn drivers about traffic wardens has asked shop keepers to use whistles for alerts.
Cornwall Council had put Andy Blackwell, from Liskeard, on a "cautionary" list of people it saw as a threat to workers' health and safety.
Mr Blackwell said he and other shopkeepers believed parking restrictions had damaged trade.
The council said it was disappointed at the action.
'Sounding like Rio'
Mr Blackwell, 51, had used the loud hailer, which also emitted a siren sound, to repeatedly call: "Traffic warden alert."
After one warning, he said he was confronted by two traffic wardens.
The council confirmed it put him on a "cautionary contact" list, and sent him a letter saying he had "verbally abused" council employees, causing them "extreme distress".
Mr Blackwell said he "never threatened or cursed or swore" during the confrontation.
Talking about the whistles, he said: "They're the ones who blew the whistle on me, and it made me think, wouldn't it be good if everyone had whistles.
"That way the whole of Cornwall can sound happy, like Rio, and everyone will know that the wardens are around when the whistles blow."
He said he "asked a few people to join in to make it more like a party".
Local grocer Andrew Beddow said he decided to join in because of concerns about parking and wardens.
He said: "Unfortunately, the traffic wardens are a bit ambitious. They don't help us traders."
Offensive posters
Shane Rogers, manager of the Last Ink Impressions tattoo shop, said he thought the whistles were a "really, really good idea" because local paid parking and its enforcement was "killing the town".
He said: "There's free parking at big supermarkets, and it's driving people out of the town."
Cornwall Council said: "Civil enforcement officers carry out an important role and it is disappointing that a small number of traders in Liskeard have decided to take this action."
It added it was also concerned that offensive stickers and posters had recently gone up about the town, criticising traffic wardens.
It is not known who put up the posters.
However, the council said: "The posters ... do not promote the town or take the debate forward."