Whistleblowers 'significant' in raising Cornwall's Serco problems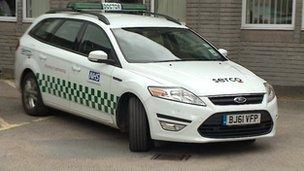 Whistleblowers played a "significant" role in highlighting concerns about Cornwall's out-of-hours doctors service run by Serco, a report has found.
The National Audit Office (NAO) said concerns were raised that Serco staff were altering data about performance.
But whistleblowers' concerns had not been identified by "routine management" or the primary care trust.
Serco said it had taken "swift and decisive action" to improve its service.
The audit was called for after it emerged some computer records on callouts by the out-of-hours doctors service were falsified to make the service appear faster.
Subsequently, a Clinical Quality Commission (CQC) report found Serco was not meeting four of the essential standards of quality and safety.
The NAO report stated: "The Department of Health should take the lead in making sure that whistleblowers are, and feel, protected throughout the NHS.
"Whistleblowers are a valuable source of intelligence and should be encouraged to come forward.
"To help reassure whistleblowers, the department should instruct NHS bodies to publish their whistleblowing policies.
The NAO report states that last year Serco regularly had insufficient staff to fill all clinical shifts, but a review found that there was "no evidence" that the service provided was clinically unsafe.
Dr Louis Warren, who manages the Serco service in Cornwall, said: "Over the last six months the GP out-of-hours service that Serco provides in Cornwall has been the subject of the most comprehensive scrutiny and exhaustive series of audits possible.
"The NAO report has not only substantiated what the CQC and other reports have already shown - that the service is safe and well regarded by patients - but also confirms that we have taken swift and decisive action in response to the previous CQC report."
Related Internet Links
The BBC is not responsible for the content of external sites.