Graham Ovenden sex abuse trial: Mother says 'I was coward'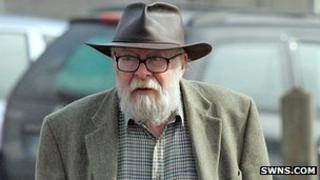 A mother has told a court she was a "moral coward" for dismissing her daughter's abuse allegations against the artist Graham Ovenden.
Mr Ovenden, 70, denies indecency offences involving four girls, then aged six to 14, dating back 40 years.
The prosecution at Truro Crown Court has alleged the internationally-known artist is a paedophile.
He is alleged to have carried out the offences in Cornwall and London, some while taking photographs.
The mother used to visit Mr Ovenden's estate in north Cornwall with her daughter.
She said she initially ignored her then teenage daughter's allegations of what had happened when Mr Ovenden took her picture as a little girl.
'Swept under carpet'
The woman said: "I was a moral coward. An absolute coward. I'm ashamed of it now."
She said she could not think about it as it had been such a long time before.
"I just pretended it didn't happen. It is awful but I didn't want to think about it."
Asked by defence counsel Christopher Quinlan QC whether she believed her daughter at that time she said: "No, I was a moral coward and swept it under the carpet."
The court heard the woman was content for her daughter to be photographed by Mr Ovenden.
She said life on the estate was "chaotic" with visitors of all ages.
Asked by Mr Quinlan if she thought anything "untoward" was going on, the woman replied: "No, I didn't."
Mr Ovenden, of Mount, Bodmin, faces nine charges of indecency with a child and indecent assault.
The case continues.