Roscrow wind farm tests strain of green energy on power grid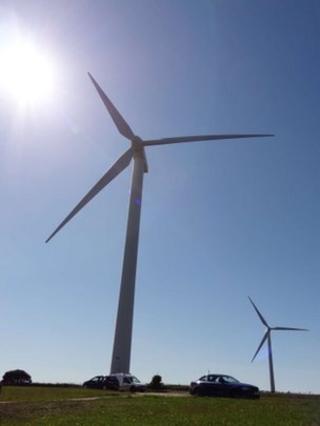 It might not look full of promise but a lot of hope is hanging on a big grey box at a Cornwall wind farm.
Western Power Distribution (WPD) is testing the Static VAr Compensator for Distribution Networks (D-SVC), which is described as "a very clever box".
It adjusts the voltage output at the Roscrow farm so the grid is not in danger of being overloaded.
Last month the firm warned that without major reinforcement, the electricity grid in Cornwall could struggle to cope with taking more power from renewable sources.
Cornwall can already produce more than 80 megawatts (MW) of electricity from wind, hydro-electric, solar and other renewable energy sources.
Another 40 solar farms in the pipeline will channel another 250 MW into the network, bringing with it the prospect of Cornwall being at certain times a net exporter of power to the rest of the country.
'Quicker and cheaper'
If the trials of the grey box prove successful, it will allow new renewable energy plants such as the farm in Roscrow to connect without the need for expensive grid reinforcement, said Roger Hey of WPD's Future Networks team.
"The results have been impressive, and we have already decided to take an extra three units from the supplier to do a bigger trial," he said.
"In the future such devices may mean we can connect solar and wind farms to the grid quicker and cheaper."
The government recognises that controlling distribution costs is key to keeping consumer bills down.
About 20%, or £257, of the average household dual fuel energy bill is attributed to network costs or transport and distribution of energy, said a Department of Energy and Climate Change report last month.
Wadebridge, where a renewable energy community group is aiming for the town to be self-sufficient in energy by 2020, could be used as a pilot project for a "smart grid".
The idea is part of the Smart Cornwall project, created by Cornwall Council.
Consumers may use computerised meters to tap into energy when it is most plentiful from renewable energy sources.
On a windy day, for example, consumers will be encouraged by real-time displays to use electricity.
Exeter University's Penryn campus could be used to test smart grid technology.
Funding is expected to come from the European Union's £415m Convergence Fund for regenerating Cornwall's economy.
'Extraordinary opportunity'
Stephen Frankel of the Wadebridge Renewable Energy Network (Wren), said: "The grid is very constrained here so the options are to either strengthen it, which is very expensive, or move on to a smart grid.
"We have the natural resources and access to large sums of money to de-risk private investment.
"It's an extraordinary opportunity for Cornwall."
The D-SVC box is one of a number of devices being funded by energy watchdog Ofgem's £500m Low Carbon Networks Fund (LCNF).
Other devices are being tested on the Isles of Scilly where Germany-based Power Plus Communications is working with WPD on ways to automatically "co-ordinate and optimise" electricity flows between the islands.
A condition of the LCNF is that operators such as WPD will have to share what they learn with other operators to promote "best practice" across the UK.