Flushing ferry firm fined over unqualified skipper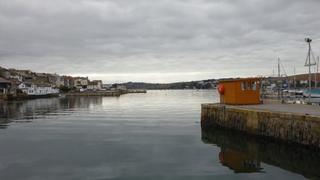 A Cornish ferry company and a skipper have been fined for safety breaches.
Flushing Ferry pleased guilty to two charges of employing an unqualified skipper on its vessel Miranda.
Gareth Hudson, 39, of Perranarworthal, pleaded guilty to six charges of sailing as skipper while unqualified, sailing without sufficient crew and conduct endangering ships and person.
Truro Magistrates' Court fined the ferry firm £2,500 plus costs and Hudson was fined £3,000 plus costs.
Passenger 'overload'
The Flushing Ferry takes passengers across the River Fal between the village of Flushing and Falmouth.
The court was told the Maritime and Coastguard Agency (MCA) in Falmouth received a complaint from a member of the public claiming the Miranda was carrying too many passengers on 30 April 2011.
Footage recorded on a mobile phone showed 28 passengers disembarking from the ferry which was being crewed alone by Hudson.
An MCA investigation determined that the total onboard was within the numbers permitted on the ferry's passenger certificate, but it revealed no mooring lines were used to secure the Miranda to the jetty.
The MCA said Hudson had been working alone, when the terms of the passenger certificate required two suitably qualified crew onboard.
The agency also discovered Hudson did not hold the appropriate Boatmaster's Licence.
The MCA said two further complaints were received in August 2011 about passenger overloading on the Miranda.
Subsequent investigations again showed numbers were within the terms of the vessel's passenger certificate, but Hudson had been the skipper and sole crew and the Miranda had been tied up with a single mooring.
A statement from MCA area operations manager Tony Helsop said securing a vessel properly was "essential" to ensure the safety of the travelling public, as was a "properly qualified crew in the correct numbers".