River Fal car plunge in Cornwall: Diver Matt Vernon speaks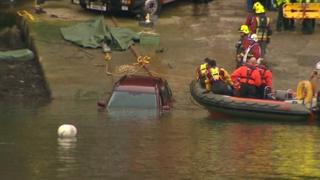 A mussel diver repeatedly tried to rescue a woman trapped in a car which had rolled off a ferry slipway in Cornwall, he has told the BBC.
The car went into the River Fal on Wednesday afternoon at the King Harry Ferry crossing point on the Roseland Peninsula, near Truro.
The driver escaped unhurt, but an elderly Devon woman trapped inside the car died. She has not yet been named.
Matt Vernon, a local free diver, said he tried repeatedly to reach the woman.
"When I first got there it was a case of hoping there was still air in the car and I could dive down and smash a window or get a door open," he said.
"I maybe dived down five or six times, but couldn't get any of the doors open. It was really hard to see because the visibility wasn't good - a lot of murk was stirred up.
"I couldn't see the car until I was right on it."
Mr Vernon, who was diving without a dive tank, said after about 20 minutes he had found an open window.
"The car was completely flooded, so it was a bit of a shock," he said.
"Because of the depth and the cold I couldn't get in the car to try to get anyone out."
The accident happened at about 16:00 GMT where the King Harry Ferry is based. Ferry services were suspended, but have now resumed.
The rescue operation involved Devon and Cornwall Police, Cornwall Fire and Rescue Service, Falmouth Coastguards, RNLI lifeboats and a helicopter from RNAS Culdrose.
The "difficult" recovery of the vehicle took about two hours and the passenger was pronounced dead at the scene.
A police spokesman said: "Police are appealing for witnesses to come forward with any information and especially those in vehicles that were present at the time of this unfortunate accident."