Graham Ovenden child sex abuse trial: Nakedness 'no shame'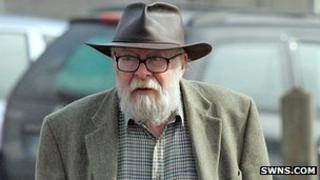 An internationally-known artist accused of sexually abusing children has said there is "no shame" in the naked form.
Graham Ovenden, 70, denies indecency offences against four girls, aged six to 14, dating back 40 years.
The prosecution alleges the artist, of Mount, Bodmin, is a paedophile who abused children in Cornwall and London, sometimes while taking photographs.
Mr Ovenden told Truro Crown Court there was a "witch-hunt" surrounding those whose works involve nude children.
He is accused of nine counts of indecency with a child and indecent assault.
The artist, who told police he had a "major reputation" for having "some of the best portraits of children in the last 200 years" told the court there was "no shame" in the so-called "state of grace", saying there was a "moral obligation" to capture that.
Giving evidence, Mr Ovenden talked about some of his images - including those featuring nudes and children in states of partial dress.
He described one of his subjects - an alleged victim in the case who cannot be named for legal reasons - as a beautiful child both in front of the camera and as a person.
"It is important that someone pays homage to that and places her in a state of grace," he said.
"I think holding those things, by photography or painting, is a moral obligation."
'Christian guilt complex'
Referencing English poet William Blake, Ovenden described the "state of grace" as "a thing of wondrous beauty".
"Imagine Adam and Eve before the serpent - there's no shame," he told the court.
"We're not born with trousers, skirts, shirts and shoes. One of the great qualities of art is to go back to the great point, the Garden of Eden."
Mr Ovenden said "Christian guilt complex" was responsible for the addition of fig leaves in artwork from the 17th Century on, to prevent completely naked pictures.
He said he had photographed children - clothed and partially clothed - in the presence of others, including the alleged victim's relatives.
He was also asked to take pictures of his subjects, including nude children, he added.
"I have to say the absolute witch-hunt which is going on at the moment - and the idea a child naked is something to be frowned upon - is absolutely abhorrent," he added.
The trial continues.