Graham Ovenden: Art arguments provide no mitigation in abuse case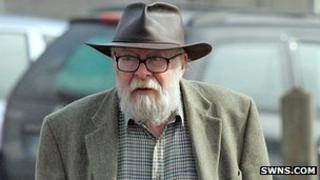 For a while, it appeared Graham Ovenden's court case was a setting for a straight and, for many, uncomfortable debate as to what is art and what is child pornography.
He admitted he had taken pictures of, and painted, partially-dressed and naked children, and that some of his subjects had been blindfolded.
But he denied allegations he abused his subjects, said his work was not of a sexual nature, and that there should be "no shame" in depicting children in what he described as their "state of grace".
The Royal College of Art graduate even added there was a "moral obligation" to capture such moments.
He said prosecutors suffered from "visual illiteracy" and had "neuroses for nakedness of children", something he said he "despised" in those trying to prove charges against him in Truro Crown Court.
'Major reputation'
He told a jury he was not sexually obsessed with girls, was "certainly not" a paedophile, and it was "absolutely abhorrent" that some people found the idea of a naked child something to be frowned upon because of outdated Christian ethics.
But the jury at Truro Crown Court convicted the 70-year-old six counts of indecency and one of indecent assault. He was cleared on three counts of indecency and two of indecent assault.
The charges dated back decades, with his victims all now adult women.
The painter, fine art photographer and writer claimed to police he had a "major reputation", having produced "some of the best portraits of children in the last 200 years".
He had been tutored by Lord David Cecil and Sir John Betjeman, attended the Southampton School of Art, and graduated from the Royal College of Art in 1968.
His work was displayed across the world, including exhibitions at London's Victoria and Albert Museum, The Tate and the Metropolitan Museum of Art in New York.
In 1975 he founded the artistic movement the Brotherhood of Ruralists - artists who had left the city to live in the countryside - with then-wife Annie Ovenden, as well as fellow artists Jann Haworth, Graham Arnold, David Inshaw, and pop artist Sir Peter Blake.
Members of the movement said they were trying to evoke the spirit of England, producing pictures inspired by the ideas and works of Shakespeare, Thomas Hardy, Elgar, Lewis Carroll, the Pre-Raphaelites; as well as English landscapes, cricket and fairies.
Ovenden's work, he himself admitted, often depicted girls. Writing in 1979, he said his pictures were "the celebration of youth and spring - the fecundity of nature and our relationship to it".
'Serious failure'
However, he had been the subject of criminal investigations for several years, and his conviction comes after a second set of charges in an attempt to bring him to justice.
An initial case came to trial in 2009 after he was charged with making indecent images.
Police raided his Cornish home in November 2006, leading to his arrest in 2008.
But legal arguments resulted in the jury being discharged at the first trial.
A second trial was thrown out in April 2010 after two officers involved in the search, described by Mr Ovenden's defence team as "vital" to the case, were not called as witnesses.
The judge said the lack of the officers' presence caused "serious risk of prejudice to the defendant", as his defence counsel was entitled to question everyone involved in the search. Their not being available was a "serious failure" by prosecutors.
After that, officers at Devon and Cornwall Police and the Metropolitan Police Service in London concentrated investigations on allegations he had abused children at his former residence in London and current home in Cornwall.
Charges were filed after formal complaints were made to police in the late 2000s and prosecutor Ramsay Quaife successfully argued Ovenden had abused his victims.
"The truth is you're sexually besotted with young girls," Mr Quaife told the court.
Now having been found guilty on the majority of charges, Ovenden has gone from the founder of a noted artistic movement to being a convicted child abuser, facing the prospect of his place among prominent British painters being removed altogether.