RNAS Culdrose winchman awarded George Medal for rescue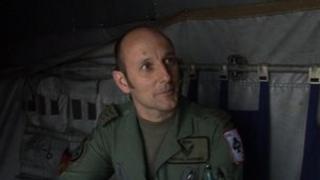 A serviceman who helped rescue a yacht crew off Cornwall has been awarded the George Medal, the UK's second highest medal for bravery.
Winchman Sgt Tony Russell was part of a four-man team from RNAS Culdrose that rescued two crew from the Swedish yacht Andriette, in 2011.
Its crew, from Holland, had to abandon the yacht and take refuge in a raft before they were rescued.
Sgt Russell said he would not forget the "poignant" rescue.
The two sailors were rescued off the Isles of Scilly after their 36ft (10.9m) yacht got into trouble in gale force winds and rough seas, in July 2011.
'Extremely challenging'
The crew were winched to safety by a rescue helicopter from RNAS Culdrose. One of the men was rescued from the water after his life raft capsized.
Sgt Tony Russell, who is originally from Bath, is now based at Commando Helicopter Force, Royal Naval Air Station Yeovilton.
He said: "A real poignant moment for me was to tell them they would more than likely never see their yacht again."
Falmouth Coastguards said the rescue was carried out in conditions that were "extremely challenging with gale force winds, rough seas and darkness."
Last year, Sgt Russell was awarded the Billy Deacon Search and Rescue (SAR) Memorial Trophy.
It is awarded to winchmen from the Coastguard, Royal Navy and Royal Air Force for meritorious service during SAR helicopter operations.