Looe collapse death house 'accident waiting to happen'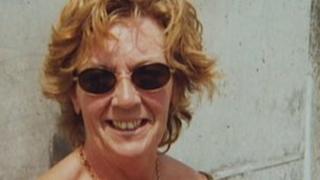 A woman who died when her home collapsed in Cornwall already had concerns about its structural safety, her family say.
Relatives of Susan Norman, 68, whose body was found after the collapse in Looe in torrential rain, said there had been two previous landslips nearby.
Structural engineers have told a councillor the building, in Sandplace Road, will be fully demolished.
Councillor Armand Toms has now called for a "full investigation".
Neighbours also claimed that before the storm in the early hours of Friday, the building was already structurally unsound and "an accident waiting to happen".
'Avoidable tragedy'
In a statement, Mrs Norman's family said: "As you imagine the mood is rather numbing for Susan's family and friends at this sad time.
"We will get to the bottom of this potentially avoidable tragedy.
"The property's safety has been a concern of Susan's for some time as there have been two recent slips very close to the house."
They paid tribute to the emergency services for their work at the scene.
"We would also like to thank the people of Looe," they added.
Residents in the area have also said they want to know whether the tragedy could have been avoided.
Roads closed
Mr Toms, councillor for East Looe, said: "I would like to see a full investigation and the results made totally public. So if there were any problems people can be held accountable."
The building, which is converted into flats, partially collapsed just before 06:00 GMT on Friday.
Ms Norman's body was removed from the scene later that night.
The A387 and B3253 remain closed due to the collapse.