Looe house collapse: Dossier outlined residents' fears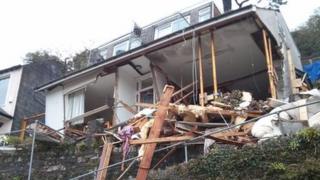 A 60-page dossier concerning the safety of homes in Looe was handed in to Cornwall Council two months before a woman died in a house collapse.
The body of Susan Norman, 68, was found after Veronica Flats in Sandplace Road collapsed on Friday following a landslip in torrential rain.
The dossier, from nearby residents, cited a "catalogue of events" it claimed the council had ignored.
Cornwall Council refused to comment on the dossier.
'Cavalier attitude'
In a statement, it said it was working with Devon and Cornwall Police and the Health and Safety Executive to investigate the cause of the landslip in Looe and was providing information relating to the highways and drainage systems in the area as part of the investigation.
But Caroline Temlett, who hand-delivered the residents' dossier to the chief executive's office on 21 February, said by refusing to address the issue, the council was demonstrating its "cavalier attitude to health and safety".
The dossier includes minutes from a public meeting held by residents from Sandplace Road and St Martin's Road in January - including Veronica Flats' owner, Christina Miller.
It also has photographs allegedly showing damage to a retaining wall at the rear of Veronica Flats which occurred after a landslip on 22 December.
Residents claimed they had raised various safety concerns with the council over the past eight years.
'Tragic events'
In January, Mrs Temlett wrote to the authority, on behalf of the residents who had attended the meeting, asking if residents were safe in their own homes or if there was a risk of subsidence or landslides "engulfing" their properties.
In response, Highway Manager East Rebecca Dickson said: "The site has been inspected on a number of occasions and all areas giving rise to concern are included within the current works programme."
The council acknowledged receipt of the dossier on 22 February but, despite a commitment to respond within 10 working days, residents are still waiting for its response.
"We were told Cormac [Cornwall Council's engineering contractor] would respond to us by 28 March but, with the tragic events of Friday, I don't think we'll hear anything anytime soon," Mrs Temlett said.
"For years now we've been trying to get the council to treat our concerns seriously and this is exactly what we dreaded happening."
The council said Sandplace Road and St Martin's Hill would remain closed until further ground investigations were carried out and the stability of the partially-collapsed property assessed.