Graham Ovenden sex crimes: Tate removes artist's work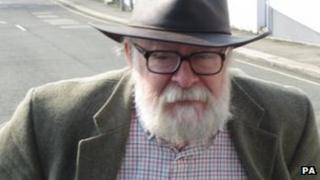 Prints by the artist Graham Ovenden have been removed from the Tate's online collection following his conviction for child sex offences.
Ovenden was found guilty at Truro Crown Court on Tuesday of six counts of indecency and one of indecent assault against girls in the 1970s and 80s.
A Tate spokeswoman said the gallery was "reviewing the online presentation" of the 34 prints.
Ovenden, 70, is on bail ahead of sentencing at Plymouth Crown Court.
The spokeswoman said: "Graham Ovenden is an artist of note, whose work has been widely shown over more than 40 years.
Victorian clothing
"However, following his conviction at Truro Crown Court, Tate is seeking further information and is reviewing the online presentation of those editioned prints by him that are held in the national collection.
"Until this review is complete, the images will not be available online and the works will not be available to view by appointment."
The 34 prints were given to the Tate in 1975 as part of a larger gift of about 3,000 works.
The Ovenden prints include work inspired by Alice In Wonderland and images of naked young girls.
During the artist's trial, the jury heard Ovenden's portraiture formed part of a ruse for abusing girls.
He made his victims dress in Victorian clothing before removing it and committing indecent acts, the court was told.
Ovenden, of The Garage in Barley Splatt, near Bodmin Moor in Cornwall, told the court he had taken pictures of children, including those in various states of undress, but said they were not indecent.