Cornwall cliff fall climber 'was anxious'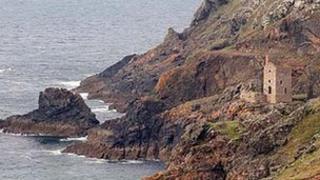 A police officer sent for specialist climbing training on the Cornish coastline plunged to his death moments after becoming anxious about falling, an inquest has heard.
Johannes Westerveen, 33, was taking part in the training at St Just on 20 June when he lost his grip.
Moments earlier, he had shouted to his instructor that he was struggling to find a foothold.
Coroner Dr Emma Carlyon recorded a verdict of accidental death.
The inquest heard Mr Westerveen was one of 10 Dutch officers taking part in the climbing training on the Little Brown Jug cliff.
Absolved of blame
The father-of-two shouted to his instructor and climbing partner that he was feeling anxious.
He completed a "barn door movement", swinging out from the cliff as he appeared to push off from the side of the drop.
The hearing was told this movement probably caused the safety clip wedged into the rock to come out.
Mr Westerveen, from Zeist, around 30 miles south of Amsterdam, plummeted head first.
He was flown to the Royal Cornwall Hospital in Treliske with head injuries, but died later that day.
An official report into the incident absolved the Dutch police of blame and said the death was caused by "an unfortunate combination of circumstances".
An investigation by the Dutch Ministry of Security and Justice said the instructors had "carried out virtually everything to the letter".
Matthew Pavitt from the Coastguards, said the group had prepared well and had good safety kit.
He said he did not think the climb was beyond Mr Westerveen's ability.