Orchestra debut for 13-year-old conductor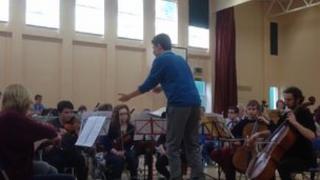 A budding young Cornish maestro is preparing to conduct a 70-piece orchestra for the first time.
Angus Webster, 13, from Falmouth, has been studying classical music since he was six.
He has studied the organ with the assistant director of music at Truro Cathedral since he was 10 years old.
Angus, who has played the organ in Truro and Exeter cathedrals, will pick up the baton later this week at performances in Penzance and Truro.
He will be conducting the Cornwall Youth Orchestra at two gala performances.
Angus said: "I first started conducting two years ago, at a course run by the South West Music School.
"At the end of the course you got to conduct the South West's Youth Orchestra and that was brilliant.
"I've learnt to enjoy it. You need to listen, that is key. I am trying to guide the music."
Angus has already conducted the choir at his local church in Falmouth performing Faure's Requiem.
Tim Boulton, the Director of Cornwall Youth Orchestra, said: "The conducting side is something that has only developed over the last 18 months or so, but I really think he has found his forte.
"He's a very talented young man."