Man 'could not see dying wife' at Cornwall hospital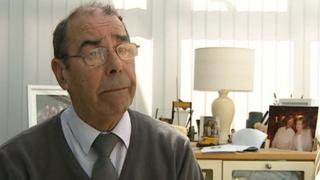 A man who failed to see his wife before she died has said hospital staff told him he could not visit her because they were dealing with a norovirus outbreak.
Trevor Law's wife Janet, who had cancer, was at the Royal Cornwall Hospital at Treliske.
She died the following day before Mr Law, from Connor Downs, near Hayle, could get to the hospital.
The Royal Cornwall Hospitals Trust (RCHT) said it regretted any additional distress caused.
'Marvellous woman'
Mrs Law, who had ovarian cancer, was admitted to the hospital in March.
Mr Law said nurses were expecting his wife, but when they arrived a bed was not available.
He said his wife was left sitting in a wheelchair for several hours in severe pain until a bed was found.
Mr Law said he called the hospital the following day but was told by staff he could not visit because they were struggling with an outbreak of the norovirus vomiting bug.
"I could have been with her... nobody [in the family] saw her that day," he said.
Mrs Law died the following morning and Mr Law said he did not have enough time to get to the hospital.
He said: "The nurses went into her and said 'Trevor is on his way', she knew I was coming... I was just that bit too late.
"She was a marvellous woman."
Their son Jonathan said: "She was so close to all of us... she was our best friend."
He added that not seeing her before she died had made it much worse.
'Not isolated case'
Patients Association chief executive Katherine Murphy said: "We fully recognise that hospitals have to ask visitors to stay away when there is an outbreak of infection or illness, such as the norovirus.
"However, in the cases of the terminally ill or those patients suspected of being close to death we would expect hospitals to ensure that there is a way for their relatives to see them."
She added that nationwide it "was not an isolated case".
Andrew MacCallum, RCHT nurse executive, said: "I would extend my sincere condolences to Mr Law following the death of his wife.
"Our hospitals are busy places but that does not excuse any lapse in the care and compassion we would expect to offer.
"We regret any additional distress caused to Mr Law and his family at a very difficult time for them.
"We are endeavouring to make contact with Mr Law and will offer to meet with him so that we can discuss his late wife's care and understand better what happened."