Truro City striker Stewart Yetton in assault probe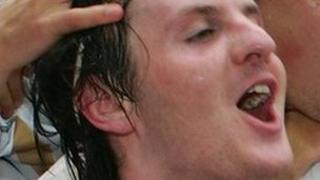 Truro City striker Stewart Yetton is being investigated by police amid allegations he broke a team-mate's jaw during a training session bust-up.
The 27-year-old forward has been suspended by the club following an incident on Thursday.
The club said defender Ben Gerring had been injured.
Devon and Cornwall Police confirmed they were investigating an assault allegation although no-one has yet been questioned in relation to the incident.
'Sorely missed'
The Blue Square South club said in a statement on Friday: "Following an internal incident it has been necessary to suspend Stewart Yetton with immediate effect.
"Given that there are only three games remaining, regretfully Stewart has played his last game for Truro City. Also Ben Gerring has sustained an injury and is unavailable tomorrow."
City play their final home league game of the season against Farnborough on Saturday.
Yetton has scored 226 goals since he joined the club in 2005.
The Truro Fans blog said: "This is indeed a very sad way to end a career at a club he clearly loved.
"For sure, he will be sorely missed."