Out-of-hours Serco GP service 'still not meeting targets'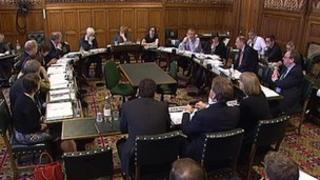 Cornwall's out-of-hours GP service, provided by Serco, is still failing to meet targets for patients to talk to a doctor within an hour, managers have told a committee of MPs.
Members of Serco's board were questioned by Parliament's Public Accounts Committee.
The appearance follows a critical report into its services by the National Audit Office (NAO).
Managers said its GP response was improving.
'Outrageous' memo
Serco has provided out-of-hours GP services since April 2006.
The committee meeting came after the NAO report said Serco regularly had trouble in 2012 filling shifts with appropriately qualified staff.
The report added some staff were altering performance data to give a better impression of the company's services, and that there was concern whistleblowers were not given enough protection.
During the meeting, committee chair Margaret Hodge MP cited the case of a leaked memo which reportedly told staff how to make changes when dealing with people who might need an ambulance so as to meet performance targets.
The memo said if staff were waiting for guidance from a doctor or nurse, they could click back on a previous computer screen "as this in essence stops the clock".
Mrs Hodge said: "Somebody put out an instruction to deliberately not get people an ambulance when they need it, simply to meet your KPI [key performance indicators]. It's outrageous."
Serco contract director Dr Louis Warren told the committee that was "not true" and an ambulance was called "every time it is appropriate to do so".
He said: "That email [memo] was written by a middle manager acting in the best interests of the wider health economy.
"Mistakes were made and how that email was written... was regrettable."
The company added that the findings of the NAO were now out of date and it had gone far to implement changes.