Shelterbox founder Tom Henderson's new charity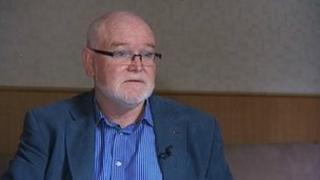 The founder of the Cornish charity Shelterbox who was dismissed from his job in a row over spending has launched a new disaster-relief organisation.
Tom Henderson's new charity, Shelter for Humanity, aims to help people around the world recover from disasters.
Mr Henderson left Shelterbox in July 2012 amid allegations of gross misconduct, which he denies.
Shelterbox said there was "no connection" between the two charities.
Shelter For Humanity, based in Redruth, is planning to offer immediate and long-term support to people displaced by natural disasters.
It was set up in memory of Mr Henderson's wife who died in August 2012 and is staffed by volunteers, some of whom are former Shelterbox staff.
Mr Henderson said: "It's about getting survivors beyond the emergency survival stage and getting them to settlement stage.
"Disasters don't just destroy homes, they destroy people's livelihoods which in turn impact on their ability to feed, clothe and educate themselves and their families for years to come.
"The solution seemed to me to be too simple to ignore and so Shelter for Humanity was born."
Displaced families
Mr Henderson was awarded an OBE for his work with Shelterbox, which he founded in 2000.
He was its chief executive until his removal last year.
An Employment Tribunal hearing relating to the allegations against him is due to be held in Exeter later this year.
Alison Wallace, the new chief executive of Shelterbox, said: "There is no connection between ShelterBox and Shelter for Humanity, other than that Tom Henderson OBE is ShelterBox's founder, and was its chief executive until July 2012.
"ShelterBox is a registered charity with a 13-year history of helping in over 200 disasters in 90 different countries.
"Its goal is to help 50,000 displaced families every year."