Boardmasters festival axes world surfing event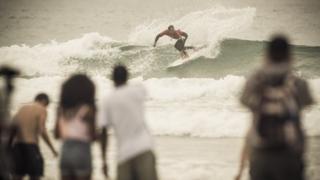 A long-running international surfing competition in Newquay has been cancelled after sponsorship fell.
Boardmasters' organiser Vision Nine said Vans had pulled out and Relentless had cut its support.
Critics said the surfing competition, which has been held since 1981, had been "taken over" by the Boardmasters music festival which started in 2005.
But Vision Nine said it was a "sign of the economy" and it could not afford to put on the competition.
The Association of Surfing Professionals (ASP) World Series competition which has been axed had total prize money of $180,000 (£116,550) last year.
'Amazing event'
In the past the event has attracted some of the world's biggest surfing names, including Kelly Slater.
But the event at Fistral beach has been dropped in favour of an open competition with £20,000 prize money.
Newquay surfboard shaper Nigel Semmens said: "It is disgraceful. Boardmasters is an amazing event, but has been taken over by a pop festival.
"If they have got enough money for a pop festival they have got enough money for a surfing competition."
Boardmasters music festival at Watergate, several miles from Fistral, and the surfing is expected to draw in about 100,000 people to Newquay, said Vision Nine.
'Very sad'
But James Macintyre of Newquay surf shop Boardwalk said Boardmasters risked losing its credibility among surfers.
"It was a highlight of the summer, to be able to see the best surfers in the world on your local break," he said.
Andrew Topham of Vision Nine, which introduced music to the festival in 2005, said: "It's very expensive to run that level of competition.
"It's a sign of the economy at large and the surfing industry has been hit very hard."
He added that he was "really confident" that a major sponsor would return to Boardmasters in the future and an ASP event would be held again, possibly next year.
"We have welcomed the cream of the world's surfing community over the years but now want to open the doors to the local community and home grown talent," he said.
The open competition will include a women's section for the first time at Boardmasters since 1999 and two junior sections will also be introduced.
An ASP spokesman said: "It is very sad, and unfortunately it's not the only one we've lost this season.
"It's been hard for many organizers across Europe, but we're hopeful that brands will start investing in our sport and grow new projects as well."