'Fewer visitors' holiday in Cornwall says tourist board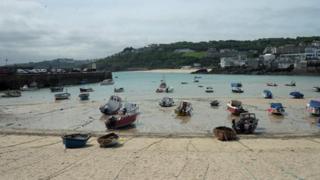 Visitor numbers to Cornwall have dropped by an estimated 10% in the first three months of 2013 compared to the same period last year, the county's tourist board has said.
Malcolm Bell, from Visit Cornwall, said it was a "triple whammy" of cold and wet weather, an early Easter and a poor economic climate.
Some tourist venue owners claim takings are down by almost 40% on last year.
Mr Bell added it was "a bit nerve racking".
'No profit'
Jane Hall, who owns four holiday cottages near Liskeard, said: "I would say we're down about 30% this year [on bookings]."
She said that after several wet summers people had started not to re-book and new customers waited to see what the forecast would be.
Mrs Hall added there was no sign that things would improve.
"There's no profit...we've kept our prices the same for the last five years," she added.
Mr Hall said it had been a struggle to maintain the properties because of a lack of money.
Andrew Baragwanath, Cornish director of the British Holiday and Home Parks Association, said: "Anecdotally I hear bookings are down... so advance bookings for the summer would be trailing anything from 10% to 20% behind last year.
"Bearing in mind last year wasn't a great summer it is a little worrying."
Mr Baragwanath, who owns a holiday park in St Ives, said: "We're optimistic that it might improve, but we're not confident."
Mr Bell said Visit Cornwall hoped a number of campaigns which promoted the county would help to attract tourists to the region.
He added that television programmes including Doc Martin, and two movies which have been part-filmed in Cornwall and are expected to be released later in the year, might also help.
Mr Bell said: "When conditions are right we can make up for lost money. The web statistics are strong, so people are looking for Cornwall on the internet."
He added the estimation of a drop in visitor numbers had come from feedback from businesses and various surveys.