Camborne celebrates inventor Richard Trevithick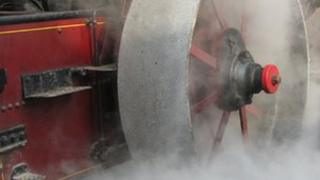 Thousands of people are expected in Camborne later to celebrate its famous son Richard Trevithick, who invented high-pressure steam power.
The event will feature dancing, street entertainment, a children's fairground, and vintage vehicles.
Mr Trevithick is remembered for his Camborne road carriage, nick-named the "Puffin Devil", first tested in 1801.
Celebrations of Trevithick's Day were first staged in 1984 and has since attracted 30,000 visitors annually.
Camborne Hill was the venue for the carriage's test-run, on Christmas Eve - an event celebrated in a well-known Cornish folk song of the same name.
Inventor's statue
Steam engines line the streets throughout the day which culminates in a steam parade.
Other highlights of celebrations later will include a tribute to the tin mining days with a bal-maidens' and miners' dance featuring 250 local school children.
Mr Trevithick was the first to successfully run a steam-powered engine pulling carriages on rails at Pennydarren, South Wales, in 1804.
A statue of him was unveiled in 1932, outside the town's library.
The statue depicts the inventor with a model of the Camborne locomotive under one arm and a pair of dividers in the other.
Mr Trevithick died virtually penniless in Dartford, Kent in April 1833,