Bishop of Truro says CofE takes Lords' role 'seriously'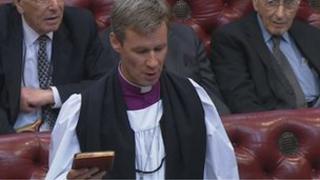 The newest bishop to take a seat in the House of Lords has said the Church of England is taking its role in Parliament "more and more seriously".
The Bishop of Truro, Tim Thornton, was introduced in the Lords on 22 April.
Speaking on BBC Radio Cornwall he said the Lords Spiritual, as the bishops are known, have regular meetings about how best to engage in politics.
He said it was "very important" that Cornwall had a voice in the Lords.
A total of 26 unelected bishops, known as the Lords Spiritual, traditionally sit in the House of Lords. They are not affiliated to any political party.
Bishop Thornton explained: "There aren't that many peers in the Lord's representing Cornwall although we've got some really good MPs.
Faith and politics
"The Church of England is taking its role in Parliament more and more seriously.
"We have a convenor, the Bishop of Leicester, and regular meetings of the Lords Spiritual to say, if we are going to be there, how can we actually engage?
"Politics is about doing things and Christianity is about people, therefore they are interconnected.
"I don't understand how it could be that faith and politics could be separate."
Places on the Lords Spiritual are reserved for the archbishops of Canterbury and York, and the bishops of Durham, London and Winchester.
The other 21 places go to bishops who have served the longest time in office.
Bishop Thornton became a bishop in 2001 and was enthroned Bishop of Truro in 2009.